MGB GT V8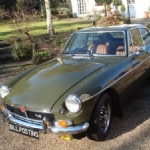 Dear Mr Postins 17th March 2017

MGB V8 : RUF 988M

The car is now safely ensconced in my garage. It looks and sounds
lovely and I'm sure it will drive just as well! Also, thanks for doing
the alternator.
I'd just like to say thank you for your excellent service. The website
in particular is easy to use, describes the cars well and fairly with
good photographs.
It was a pleasure to meet you and do business with someone who
gives such personal attention and with such a wealth of experience.
Also, I know you have your own transport arrangements but I am
very impressed with Philip Brown (Super23) who is 'a' young man
who deserves to go far. He does what he promises at very
reasonable rates and is excellent at communicating : he was
delayed slightly coming up the A9 today but sent regular texts to
up-date me.
With thanks again and kind regards,
Yours sincerely,
C J Silver

PS. : please let me know if you get any interest in the mini!
Bill Postins Classic Cars - Tel. 01676 533949
Home | HISTORY | MY STOCK | GALLERY | TESTIMONIALS | LINKS | ENQUIRIES